I invite you to sit down in a comfortable chair with a glass of hot glögi, the star shaped Christmas pastry and some gingerbread - or why not follow in my footsteps and get yourself downtown so you can simulate the walk. Welcome along, in any shape or form! :)Before we start, though, I would like to tell you about the history of our Christmas celebrations in Finland. We have a lot of traditions, but where do they come from? Why do we do what we do? Why do we eat what we eat? And where does the word "joulu" or "jul" really come from? Join me for a ride through the centuries!
Aleksanterinkatu, The Christmas street: Stockmann Christmas window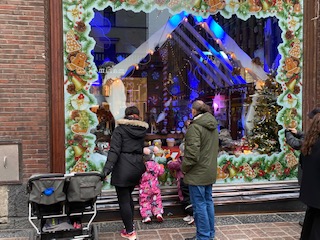 The Christmas street was set up at Aleksanterinkatu for the first time in 1949, and Stockmann´s Christmas window has been an important part of it ever since. This year´s window depicts The Gingerbread land, where elfs and animals alike bake and prepare for Christmas. The music that accompanies the visuals is composed by musician Tuomas Kantelinen.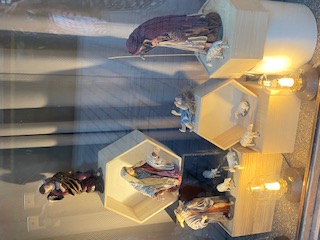 Around downtown, a few different shops have participated in the yearly Christmas Crib exhibition. Keep your eyes open when you walk around! If you want to, you can also check for locations through the links below:
In English: https://www.myhelsinki.fi/en/see-and-do/events/helsinki-christmas-cribs-2020
In Swedish: https://www.jouluseimet.fi/helsingfors_julkrubbor/
In Finnish: https://www.jouluseimet.fi/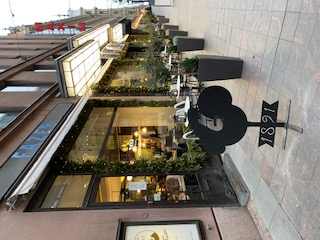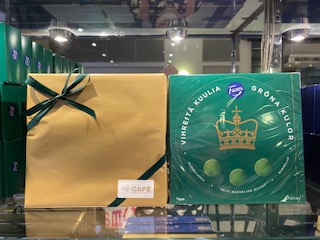 The most traditional Christmas candy must be Fazer´s Gröna kulor / Vihreät kuulat! In this Christmasy version the marmalades are all green, but in a version called Finlandia you have a whole set of different flavors available.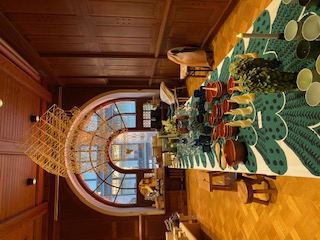 Traditionally, one of the best places to shop homemade Christmas gifts has been the Women's Christmas fair. The event has taken place since 1922, initiated by Women´s organization Unioni´s active ladies Sigrid Heinricius and Maikki Friberg. The fair has been a great way for women of all ages to come together and sell their arts, crafts, cakes and pastries, knits, cards, ornaments, ceramics, accessories - just about anything really, but made by hand here in Finland by the people who sell them.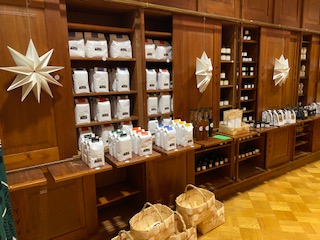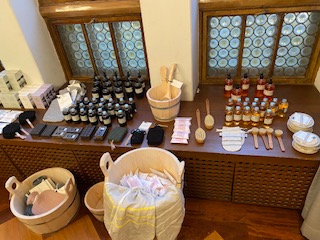 This year, so many events have been cancelled, but there is one woman who decided to open a Christmas fair anyway. Katja Hagelstam from Lokal managed to get a really beautiful art nouveau space on Aleksanterinkatu 44, 2nd floor. You have to press the doorbell marked "L" to get in, but it is so worthwhile to go! Even if you are not into art and design you are certain to still enjoy the beautiful art nouveau building. Make sure you don´t miss any rooms - there are many more than you think!
Accessories for that Christmas sauna, also at Lokal Christmas market.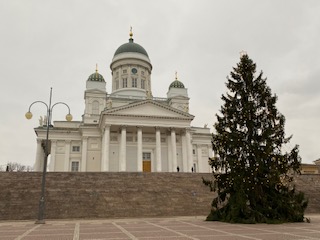 The Senate square is unusually quiet this Christmas. All those wooden cabins had just been placed out on the senaste square in preparation for the Christmas market, but unfortunately new Covid -restrictions had to be put in place, and the market had to be cancelled last minute. Hopefully it will be there next year again!
The official Christmas tree of the city, right on the Senate square, is donated by a family from Mellunmäki in eastern Helsinki. This tree has actually been cut down from their backyard! How tall do you think it is? Listen to the video below in order to find out: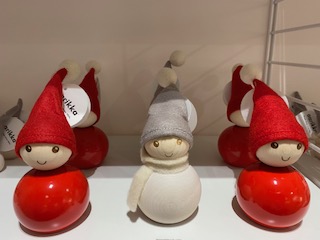 These elfs from Aarikka are definitely among the most popular Christmas ornaments in Finland! Produced since the 1970s, they can be found in many homes this time of the year. Kaija Aarikka started the company bearing her name in 1954. Kaija had just designed a dress of her own, but the buttons she wanted for her dress were nowhere to be found! Unwilling to give up, she designed those buttons herself too, and really got inspired to design more. The first products sold were buttons and jewellery, mostly made out of wood. Today, there are elves in many sizes, and with different types of accessories they carry.
Elves have always been an important part of Finnish folklore, but the idea that they are helpers of Santa Claus is pretty new. You can hear more about the history of Finnish elves through the link below: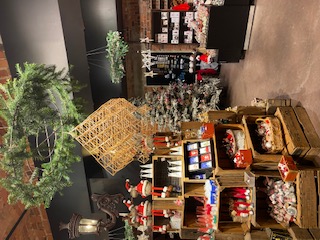 For people who are really fanatic about Christmas, it might feel good to know there is a place in Helsinki with never ending Christmas - 365 days a year! Go experience the jingle bells and the silent night to Kankurin Tupa, the Cabin of the Weaver, located at Pohjoisesplanadi 35. The string of Finnish flags will direct you to the shelf with products made in Finland.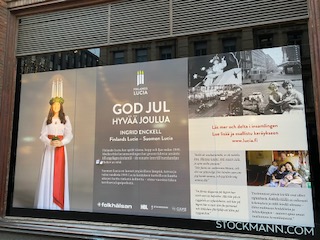 Have I saved the best for last? Maybe! One of my favourite Christmas traditions is Saint Lucia day, December 13th. It is such a fascinating story too, not lacking drama and gruesome details. You can listen to it here:
This year´s Lucia in Finland is called Ingrid Enckell, and she has already done a number of performances. The coronation was done without audience this year, but instead it was streamed straight into our homes. You can find the coronation here:
https://areena.yle.fi/1-50703007
In another clip, Lucia Ingrid Enckell is singing together with her choir of angels at the National Museum:
https://areena.yle.fi/1-50701404
I hope you have enjoyed our little tour in downtown Helsinki!
Have a Merry Christmas, Happy Holidays, and the best possible start for the new year 2021! I really hope to see you all very soon again! :)
God Jul!
Hyvää joulua!
Heidi <3
---
Time to become a member of our organisation Svenska Kvinnoförbundet i Sörnäs? Please read more and get registered today!