Many greetings from our Helsinki guide Heidi Johansson to all the women at Women's Café in English community!
She has set up a walk in Helsinki for you:
Unfortunately, we were not able to do our guided walk around the city, getting to know our strong women as we planned, so instead I am inviting you to join me for a little imaginary stroll. During our walk we will go from Kaisaniemi over the long bridge over to Kallio, getting to know four strong women and a few of their accomplishments on the way. Welcome along!
1. CAJSA WAHLLUND AND RESTAURANT KAISANIEMI
The Kaisaniemi park is strongly associated with the first of May celebrations, especially for the Swedish-speakers who have traditionally gathered here to listen to the university choirs singing, doing a picnic, and welcoming the spring. But why Kaisaniemi? And what does this tradition have to do with our lady Cajsa Wahllund? These questions will be answered to you in the video below: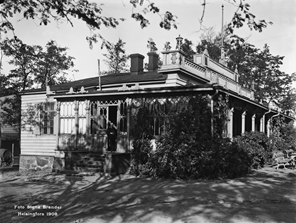 Restaurant Kaisaniemi - the oldest restaurant in Helsinki.
2. THE OLDEST PARK, BUT ALSO THE MOST DANGEROUS ONE FOR WOMEN?
The Kaisaniemi Park is Helsinki's oldest park. It received some negative attention a decade or so ago, when it was called one of the most dangerous places in Helsinki for women, even by some "the rape park". The Kaisaniemi Park plays a key role in author Anja Snellman's novel The Geography of Fear from 1995. The term ´geography of fear´ was first used in Great Britain and the United States when researchers and city planners begun to talk about how women's fear of abuse limited their freedom of movement in the city. Finnish researcher Hille Koskela urges people to cross the Kaisaniemi Park, also in the evening. The vicious circle of fear means that a place becomes even more frightening when people begin to avoid going there. And conversely - the more people walk through the park even after dark, the safer the park will be for all of us, she says.
3. THE LONG BRIDGE
When crossing the Long Bridge, you will realize it is not at all very long! Well, not geographically, but supposedly the name symbolizes the long mental distance between the bourgeoisie downtown and the working class neighbourhoods of Hakaniemi and Kallio. Our former president Tarja Halonen spent her entire childhood in Hakaniemi and Kallio, and her family never really saw a reason to cross the bridge - except for the first of May parade. Tarja Halonen´s husband Pentti Arajärvi grew up downtown, and his family similarly felt no need to cross the bridge to the other side. Today it is perhaps hard to imagine this bridge was such a divide between two very separate realms!
4. ALLI TRYGG AND THE KALLIO LIBRARY
One of the gems in Kallio is its beautiful library. Hopefully it will open fully again soon, so you can again sit and read, enjoying both the architecture and the atmosphere. The library has an equally fascinating story, along with the woman who founded it: Alli Trygg. In the video below you will hear more about Alli and how the library came into being:
5. ELVI AVIKAINEN AND THE AVIKAINEN BAKERY
At this point of the tour we will need a little snack, and I know exactly where to take you! We will go up to Torkkelinmäki, also called the Eira of Kallio, to discover a hidden gem: the Avikainen Bakery, along with the grand old lady Elvi Avikainen. I really and truly hope that you will make your way to this little shop one day. I don't know any other place where everything looks exactly the way it did upon opening in 1966, including the selection of baked goods! Please join me for some cat-shaped rye bread and grandma's blueberry pie:
6. AURORA KARAMZIN AND THE DEACONESS INSTITUTE
Finally, we are heading to a meeting with an old acquaintance of ours - Aurora Karamzin! It is getting a bit dark, but just like we learned in the Kaisaniemi park, walking outside in the evening is making the city more safe for us all.
You might remember the incredible story of Aurora Karamzin - this time the focus will be on the Deaconess Institute that she founded, which is today located at Alppikatu in Kallio. It is quite incredible that what started out as the project of one woman, an institution with eight beds, now employs well over a thousand people, trying to work for people in the most vulnerable positions.
It is getting dark, and Women´s day is turning into night. I am so happy you wanted to join me on this imaginary stroll, but at the same time hoping that we will do a real walk very soon!
Now let's go out there and live like every day is women's day! <3
Heidi Johansson
Helsinki City Guide
---
Time to become a member of our organisation Svenska Kvinnoförbundet i Sörnäs? Please read more and get registered today!